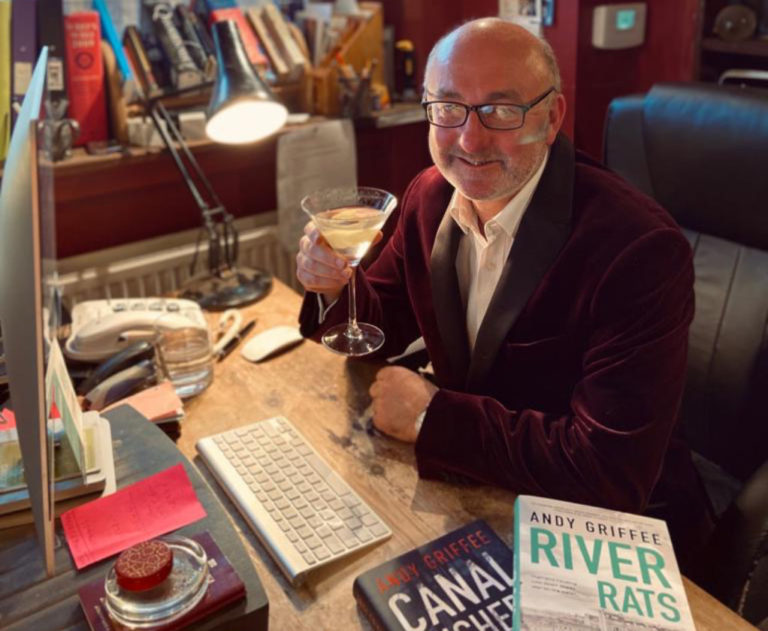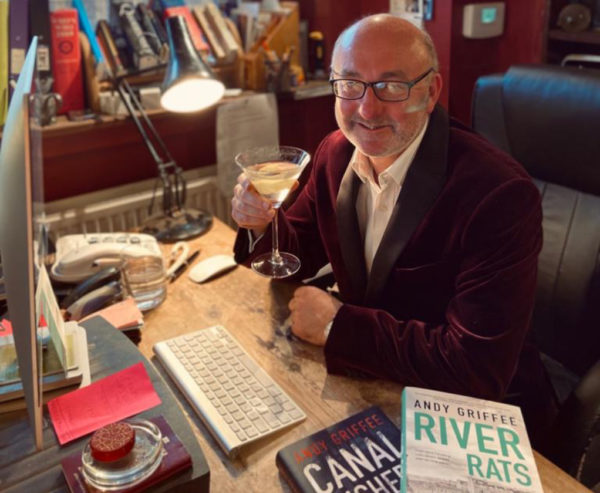 A virtual book launch goes viral to beat the virus
5 DAYS TO GO:
Five days until April 2nd – the date when I had been due to celebrate the launch of my second crime mystery, River Rats, with scores of friends, family and former colleagues at Mr B's Emporium bookshop in Bath. But the coronavirus has put paid to that. Nevertheless, the publication will still go ahead on schedule. People need books more than ever.
The hundred names on the guest list are emailed by Orphans Publishing and told there's going to be a VIRTUAL launch party instead. We're going to try doing it on Facebook Live. Not sure if this has ever been done before. Loins are girded.
Orphans post a photo of the book's dust jackets being put on in headquarters. It looks lovely and I can't wait to see it for real.
4 DAYS TO GO:
I try to create and send an 'event invite' on Facebook to all my named 'Facebook Friends'. It slowly becomes clear it has only reached half of them and I am at a loss to understand why. So, I start posting about the event on Facebook and trailing it across Twitter, Instagram and LinkedIn as well. After all, there's no longer a limit on numbers is there? If I make it a 'Public Event' on Facebook, anyone can watch whether they are one of my 'Facebook Friends' or not. The more the merrier. And they might even buy a copy afterwards.
It's a self-promoting social media blitzkrieg and I realise it must be very boring for my closest friends and family. However, they are cheering themselves up by posting a continuous stream of funny videos on our WhatsApp group and getting together on Zoom every Friday for a virtual pub session. We call it our Zoom Bar.
3 DAYS TO GO:
Orphans tell me that one of my book's main distributors, Gardners, are closing their warehouses. This will drastically reduce the supply of all books to the smaller independent bookshops. But Orphans believe their skeleton staff can handle orders directly and so I concentrate on promoting them as the primary source for sales. Thank goodness I've got a publisher with their own printworks and a lovely website.
A box of pristine copies of River Rats is left on my doorstep. My daughter films me opening it in the kitchen alongside my border terrier Eddie, who features in the book. I post the video and lots of comments pour in about the size of the kitchen knife I used to open the box.
2 DAYS TO GO:
I'm getting nervous about the launch technology. What if I cock it up and sit there talking to no-one? One of the publisher's keen young digital experts called Dan holds a Google video conference with me. He can see my computer screen at the same time. He patiently talks me through going live on Facebook. Thank goodness I've got a publisher that also designs and builds websites and boasts a lot of in-house technical expertise. I schedule a private event for the afternoon, invite my homeworking wife and daughter to watch and hold a rehearsal. It works well technically but there is then a robust discussion about the content. I retreat in a sulk.
It now seems clear that Amazon too is rationing its supply of books to the public. At least people will be able to buy the e-book for their kindles if they want to.
1 DAY TO GO:
I have an old-fashioned telephone conversation with publisher and Orphans boss Helen. We agree to post a recording of the video launch on our respective websites for those guests who don't have Facebook. She advises me to Tweet about things other than the book – but at the moment it's all I can think about.
I do another run-through of my speech. It's taking about 13 minutes which will leave 17 minutes to respond to people's text questions and messages. Fair enough. I don't think it should last longer than half an hour in total. People have their jigsaw puzzles to go back to.
GOING LIVE:
I wake early to do another social media blitz reminding people about the virtual book launch starting at 6.30pm. A friend contacts me to ask if it is really scheduled for 6.30pm GMT, as it says on the invitation. Damn. The clocks have changed. It should have said British Summer Time (BST). Perhaps I really will be talking to myself?
The publishers wade in with their own reminders on social media. I am ecstatic that editor Debbie has persuaded best-selling author David Nicholls and a whole clutch of book bloggers to spread the word on Twitter.
I put on a smart velvet smoking jacket, white shirt, grey flannels and the new blue suede Chelsea boots I had bought for the launch in Bath. Important to look the part. At 6.25pm I press the Facebook Live Go-Live button and begin transmitting the picture of my study desk and chair with a copy of River Rats propped up and a sign saying 'Gone to the bar, back in a minute'. Hopefully this will give guests the chance to master the technology, connect and gather.
I sit down at 6.31pm and start talking. I have written my script in Word and placed it on the screen at my eye-level. Another window is open on my Mac below it which shows me what everyone else is seeing. At my elbow is a quarantini, a gin cocktail with a twist of lemon peel and without the vermouth – so chilled gin basically. I scroll down the script as I read it, whilst trying to look as though I'm not reading it. At least I don't have to memorise my speech as I did last year for the launch of my debut novel Canal Pushers.
At the start, I invite people to send in messages and comments and by the end there will have been 125 of them. I come to the end of my pre-prepared speech and begin responding to them from the screen – but there are too many to do in sequence. My wife Helen has been monitoring them on her phone, just out of shot, so she then joins me and relays some of the questions. I'm starting to relax and enjoy myself when the study door bursts open and our three dogs rush in. The two border-terriers, Eddie and Phoebe leap into shot and onto our laps – which seems to be enjoyed by the audience. Finally, we say our goodbyes and spend the next hour examining the feedback – which is universally positive.
There's a brief post-mortem video conference with Helen, Debbie and Dan. They seem happy. Then I exchange texts with Tamsin Westhorpe, another Orphans author who is as comfortable with podcasting and YouTube video channels as she is with horticulture. We agree that although the virus has forced me into doing a virtual video book launch – perhaps we had just glimpsed the way of things to come. Maybe, even in normal times, there might be a way of using digital media to take a real launch party and distribute it live to a wider world. After all, at least all those extra guests would be buying their own drinks!