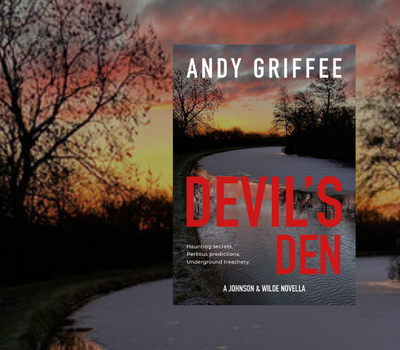 At last! Devil's Den – a novella is out and it's the fourth book in the Johnson & Wilde crime mystery series. It is available to order now as a paperback or e-book from  http://amzn.to/3jhkKpO
The leaves are falling, Hallowe'en is approaching and Jack Johnson has found a temporary mooring for his narrowboat on the Staffs & Worcs Canal near Kinver. His on-off relationship with the young army widow, Nina Wilde, is mending slowly after the heartache of their time in Oxford (Book 3, Oxford Blues). But a chance encounter and an overheard conversation in a local pub kicks off a perilous sequence of events – some of which are distinctly other-worldly.
Jack reluctantly has his tarot cards read by Heloise, another live-aboard boater, although he remains more interested in spirits of a different kind. When Nina makes a short trip home to see her mother, he tries to find comfort in a bottle of whisky. Bored and frustrated, he explores his surroundings and discovers an old boat house carved into a cliff on the canal. Intriguingly, it is called The Devil's Den.
On her return, Nina is invited to a seance in some underground tunnels and jumps at the possibility of talking to her dead husband for one last time. She persuades a highly sceptical Jack to go along with her. But why is Nick, the boyfriend of Heloise, so implacably opposed to them going? What has he got to hide?
Jack and Nina quickly find out when their illicit seance is rudely interrupted and a night-long ordeal begins. The odds are stacked against Jack and Nina as they are forced to work into the early hours at gunpoint. But there are other powerful forces at work in the subterranean tunnel complex and they play a deciding factory in the outcome.
I hope all fans of the series will enjoy this atmospheric and fast-paced adventure for Johnson & Wilde (and their dog Eddie) on the waterways of England.