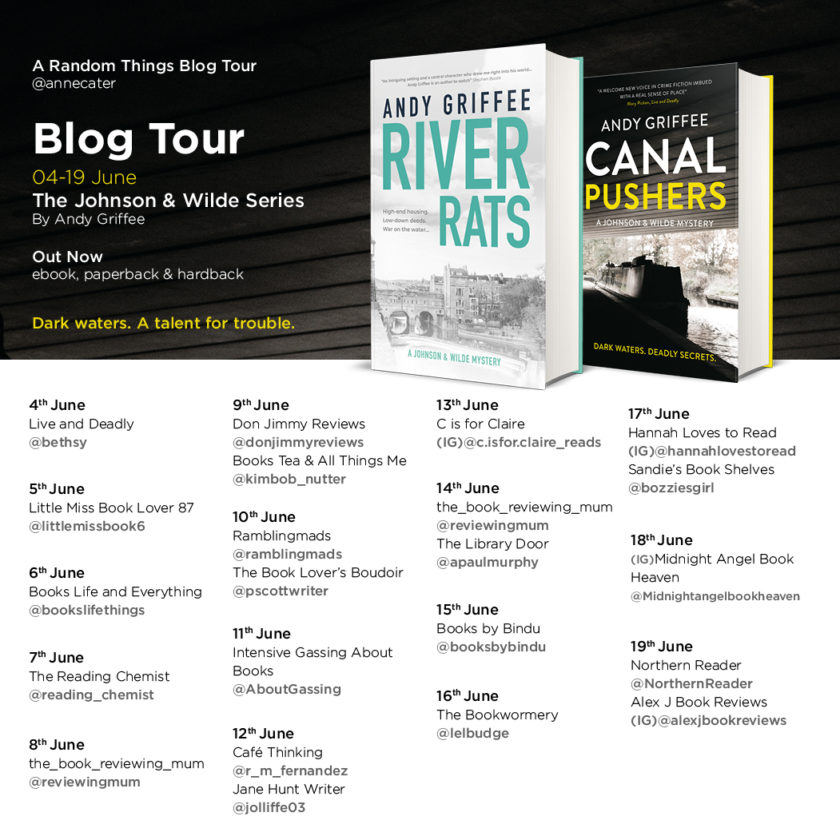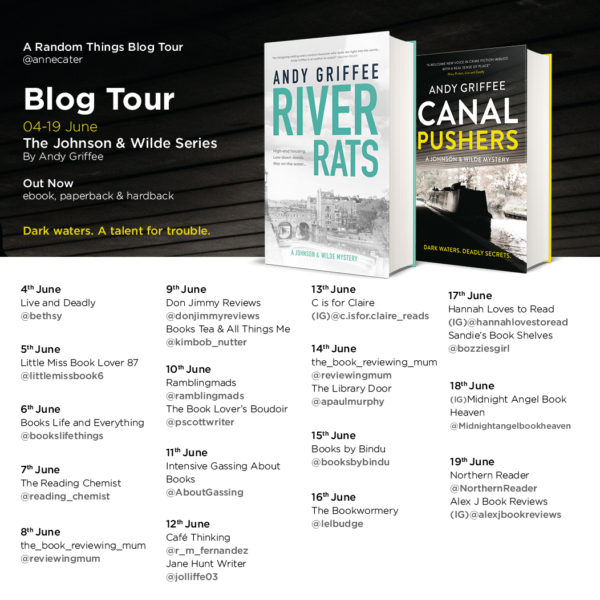 THE BLOG TOUR BLOG
The Johnson & Wilde Series by Andy Griffee
In spite of lockdown and Covid-19, I have just been on a tour which has taken in 21 different locations over 16 days. The places I have visited include Glasgow, Liverpool, Dover, London, Bristol, Durham, Worcester and Wicklow in Ireland. But before you call Dominic Cummings or the police, I need to stress that this was a virtual Blog Tour of reviewers for my first two books in the Johnson & Wilde crime mystery series, Canal Pushers and River Rats.
Now this was something of a first for me. I know that rock bands go on UK-wide tours as well as theatre companies, comedians and politicians (spot the difference). But I had no idea the concept could embrace a 59-year-old former BBC journalist and manager, just because he had written a couple of crime books.
Nevertheless, the estimable Anne Cater had joined forces with my publisher, Orphans Publishing to organise the tour. There would be no merchandise (other than the books), no T-shirts listing all of the different venues and definitely no groupies. Instead, there was a schedule from June 4th to June 19th 2020 for 21 different reviewers to commit their thoughts about Johnson & Wilde to the internet.
And frankly, the prospect was terrifying. What if they hated the books? What if the tour turned into an enormous ball of ordure, gathering in size and smell as it sped downhill?  What if a succession of grudging single stars arrived which gave off little light, but an awful lot of heat? I imagined critics in attic rooms across the country, cackling cruelly in anticipation as they sharpened their quills and dipped them in blood.
Nevertheless, I screwed my courage to the sticking place and shared the Blog Tour schedule as widely as possible. "Really?" texted one friend sarcastically, "Have you got a book out? I'd never have known!" Family, friends and even the most casual acquaintances have suffered greatly over the past two years from my relentless self-promotion across social media. But at least this might be a chance to widen the circle and reach out to a whole new community of readers? A rough calculation told me that this group of reviewers were being followed by about 50,000 people on Twitter; people who loved reading and who would be directed to their blogs for reviews, discussion and book chat. Each day, in succession, one or two reviewers would draw attention to their blog about Canal Pushers and/or River Rats, and then the others would generously share the reviews with their own followers on Twitter, Facebook or Instagram.
It all kicked off in Glasgow with Mary Picken (@bethsy) pointing her faithful fan-club towards the Live and Deadly blog where she praised River Rats for 'a dramatic plot line with plenty of twists (that) also carries a nice undercurrent of edge and humour'. Mary had already reviewed Canal Pushers for its launch last year ('A welcome new voice in crime fiction imbued with a real sense of place') as well as hosting two articles from me about my writing process. The next review from Little Miss Book Lover (@Littlemissbook6) awarded 'five shiny stars for both books!' and in the next, Pam from Books Life and Everything (@bookslifethings) said 'this is a great introduction to a new crime series and sets up the main characters beautifully.'
I could breathe again. There was still a long way to go but the early reviews, as they call them in the theatre, were very encouraging. This was a good job as the ban on international travel meant that I was unable to flee abroad anyway.
Sarah Hardy, The Book Reviewing Mum (@ReviewingMum) somehow managed to escape the demands of her two boys, both under four years old, to hail Canal Pushers as 'a perfect read' and follow it up, after reading River Rats, by saying 'I genuinely think this author has become one of my favourites.' High praise indeed.
A couple of reviewers cannily dodged doing a review and got me to do the work instead. Don Jimmy Reviews (@donjimmyreviews) hosted an article from me about writing my third book during lockdown and Richard Fernandez of Café Thinking (@r_m_fernandez) commissioned me to write about three lesser known books that I love and recommend (Complicity by Iain Banks, Human Voices by Penelope Fitzgerald and The Complete Aubrey/Maturin novels by Patrick O'Brian). Richard also demanded to see a picture of my 1964 Mark 1 Triumph Spitfire. I duly obliged. Anything for a critic.
Surprisingly, my stories about murder and mayhem on the towpath still made a few reviewers think wistfully about a canal holiday. Pamela Scott of The Book Lover's Boudoir (@pscottwriter) gave 5-stars to both books and declared she would love to tour Fife in a boat – or even live on one like my hero Jack Johnson. Sandie Bishop of Book Shelves (@bozziesgirl) 'wholeheartedly' recommended the series and said she had been convinced to try a boating holiday. She lives near me in Worcester so she is certainly in the right place to try a weekend afloat. Georgina Murphy of The Library Door (@apaulmurphy) remembered her own canal holidays before suggesting 'you quietly slip your moorings and head down to your local bookshop' for a copy of one of my books. Claire from C is for Claire (@Clairey_Fairee) had enjoyed many narrowboat holidays and fortunately found the storyline 'gripping'. And Lynsey Linn of Books by Bindu (@booksbybindu) found River Rats 'thought provoking' because she knows a liveaboard couple in Glasgow who have to deal with the same hostile attitudes depicted in River Rats. I also happily discovered that she owns a border terrier, just like Eddie who is a main character in the books, and so I trust her judgement completely.
The true stories which inspired the fictional plots of my books appealed to some like Ramblingmads (@ramblingmads) who found them 'enjoyable, very well written, cleverly constructed books'. While others like Intensive Gassing About Books (@AboutGassing) thought the 'wonderful leads, engrossing storyline and excellent setting' would make a great televised drama. I wonder if Timothy and Prunella West are available?
Jane Hunt Writer (@joliffe03) is an author herself, but she was still excited by 'a new crime series … especially when it's full of rich characterisation and originality'.
The nice thing about having a hero who lives on a narrowboat is that each new edition can move on to a different place. Canal Pushers is set in the Midlands and River Rats is based in Bath. Lesley Budge of the wonderfully named The Bookwormery (@lelbudge) found the sense of place 'stunning' and 'the relationship between Jack and the quiet but forthright Nina a pleasure to read' I hope she enjoys book 3 when Jack and Nina arrive in Oxford – however, I am sad to report the relationship won't be all plain sailing.
Hannah Loves to Read (@hannahlovestoread) thought River Rats was 'a great book' and Books Tea and All Things Me (@kimbob_nutter) agreed saying it was 'a fabulous book' which kept her 'gripped throughout and I found it hard to put down." Midnight Angel Book Heaven (@Midnightangelbookheaven) got slightly confused between her long boats (Vikings) and narrowboats. She preferred Canal Pushers to River Rats – 'great suspense, highly recommended' while a couple of others said they preferred the sequel.
All good things must come to an end and eventually, the epic Johnson & Wilde Blog Tour arrived at its final day. It was the farewell gig. The tour bus was in a bit of a mess and so was this author. The early mornings (eagerly scanning for each new review), the sleepless nights (worrying about the next day's review) and the copious amounts of (purely medicinal) whisky had all taken their toll.
Astonishingly, as part of this grand finale, we were in both Derby and Bristol – even though they are 135 miles apart. And after an overwhelmingly female cast of critics, the final two were a woman and a man. Julie Barham of Northern Reader (@Northern Reader) said she enjoyed the plot, characters, dialogue and setting – which sounds like a clean sweep.
And Alex J Book Reviews (@alexjbookreviews) of Bristol had the final word. He enjoyed reading about his home city and called River Rats 'A gently paced, superbly plotted, very well written and intelligently crafted thriller.' In fact, he thought it would be the perfect accompaniment for an escape into the cosy corner of a pub or a sunlit garden. Well, one out of the two might be possible.
Thanks again to Anne Cater (@annecater) at Random Things Tours and to Orphans Publishing (orphanspublishing.co.uk). It's been a blast. Now where's my T-shirt?